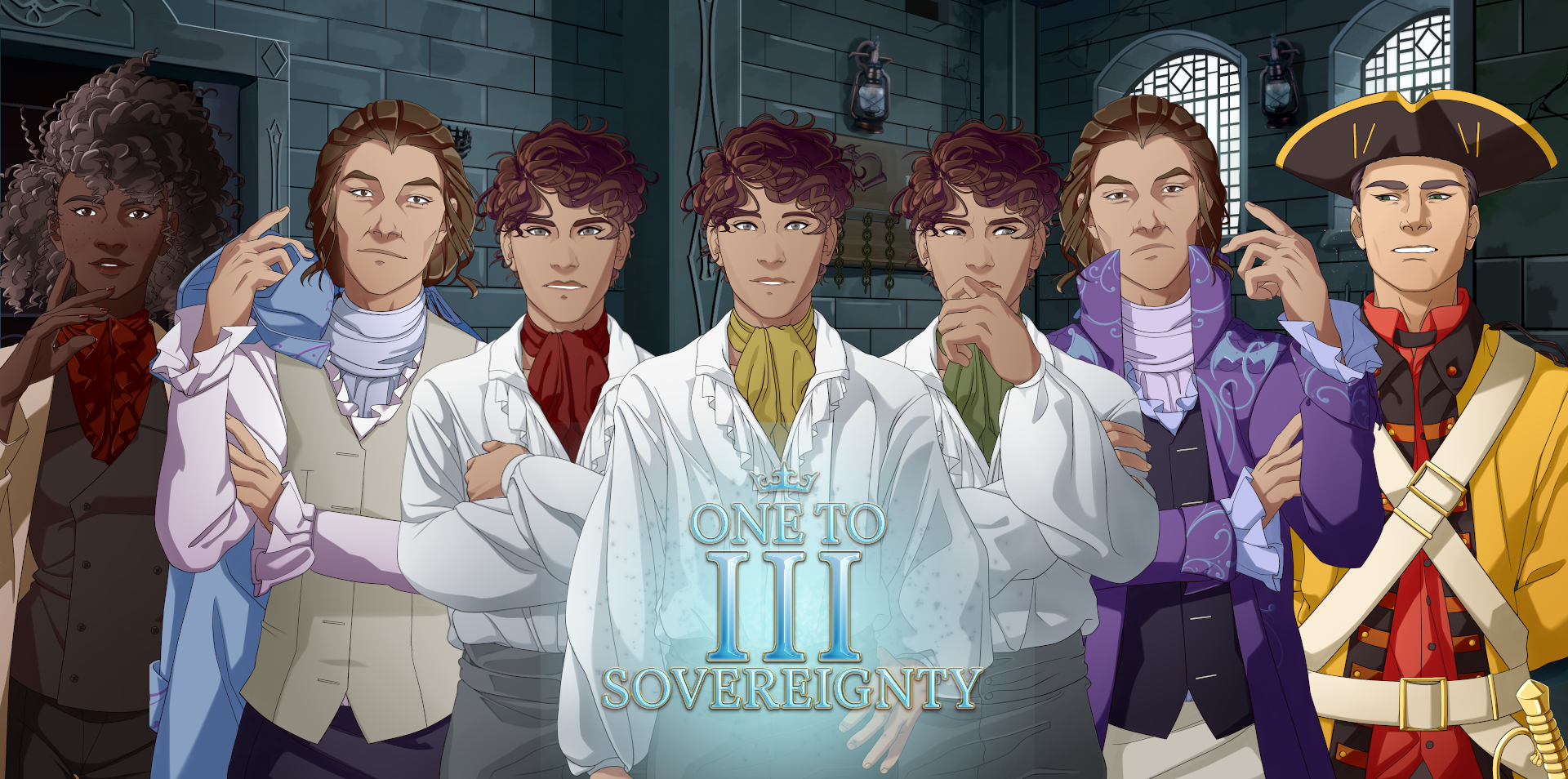 One to Three: Sovereignty
A downloadable Visual Novel Game for Windows and macOS
***DEMO AVAILABLE NOW***
One to Three: Sovereignty is a short fantasy, mystery, otome/dating sim visual novel about magic mirrors, parallel worlds, curses, and choosing a successor for a crumbling monarchy. With a focus on world-building lore and parallel perspectives, the player is placed in the role of an unlikely investigator trying to help differentiate between three identical princes and finding the 'real' heir to the throne of Escyil. You choose whether politics, truth, or passion guide your investigation and who takes the throne, and your heart, in the end.
Development
The full game will be released sometime in 2021. The best way to support the game is to share the demo. Follow this page or my twitter (@cmmendio) for updates on development progress.
Synopsis
Rieve spends most of her days alone in the wizard, Oculum's, ice castle. She was accidently cursed as a child, so her internal organs melt if her body temperature rises too high. Oculum created the castle for her to live comfortably, but her curse still prevents her from living a normal life. She has long since lost contact with family and friends, only seeing Oculum and her childhood friend, Carein, on occasion. She fills her days with housekeeping, cooking, and cleaning for Oculum, and of course, reading books in his study dreaming of a different life.
One day she stumbles upon a magic mirror sent to Oculum for study, and after touching it, she is transported far from home. Or is it? The three identical men tell her she's only a few miles from home in the capital's keep. But they also each claim to be the crown prince? Rieve doesn't know how or if any of them are telling the truth, but she can't turn her back on this taste of adventure when one of the Princes asks her to help them. Can Rieve figure out which one of the Princes belongs to the world she's stumbled into? Or which one should? Will this experience change Rieve's life forever or help her embrace the magical life she's already had?
Characters
Rieve (MC)
a curious, hard-working girl with a history of getting involved with problems she shouldn't. She's sheltered and lonely and hides her problems from everyone around her, but that doesn't mean she doesn't mind talking to others. In fact, she prefers to be in charge to keep people's attention off of her. She's responsible, hardworking, and by circumstances, domestic. She's never even met royalty let alone had a country's future in her hands, but she enjoys the Princes' company, perhaps one more than the others.
Prince Asolei Atero
Crown prince of Escyil, only child, known to be reclusive and hard-working
LEI (Yellow)- confident and conversational, but doesn't like people and keeps to himself. He is thoughtful and religious, knowledgeable on his father's family and religion, openly shows his emotions
SOL (Red)- serious and passionate, his radical views and aggressive personality alienates him from others. He dreams of dismantling the monarchy, and is knowledgeable on history and politics. He stands up for himself and others but is honest rather than kind.

ASOLE (Green)- nervous and shy, he is scared of other's expectations and opinions so stays away from most people. He is intelligent but has low self-esteem. He is knowledgeable on law and mother's family. He responds well to positive reinforcement and patience.
Oculum
Wizard and Scholar
Version 1-The wizard who saved Rieve's life and gave her a home . His first love is academics. His second is forgetting everything else. Luckily, he has Rieve and Carein, his apprentice, to keep him grounded. His is compassionate, despite occasionally being preoccupied, and tries to help others whenever he can.

Version 2-The new royal Wizard, Asolei's new tutor, who get wrapped up in the royal drama when he gets too close to one magic mirror. Obviously, he prefers books to people. He is serious about his duties and responsibilities as a mage and sometimes forgets to take care of himself. Doesn't seem to be close to others or know how to handle people.
Culsem
The guard put in charge of the 3 Princes, loyal and hardworking. He puts most of his effort into his job to provide for his family, despite others putting him down. He is shaken by the multiple princes appearance, but takes his role seriously. He is easily influenced by others' opinions and actions.
Carein
Rieve's childhood friend, who was the one who accidentally cursed her in a childhood fistfight . Spends most of her time with her mentor, Oculum, and/or Rieve because most people, including her family, are scared of her magic. She was angry and violent as a child and has grown up regretting who she used to be. While she still struggles to control her emotions, she channels them in a more positive way, focusing on studying her magic and helping others.
Credits
Directing, Writing, Programming-Christine Mendiola (diedbeforesquire)
Character Art-Remanantation
Music-Jessi Brown
Background Art- Fuura-xen
Sound effects obtained from https://www.zapsplat.com/
GUI Design and Logo- Olivson
| | |
| --- | --- |
| Status | In development |
| Platforms | Windows, macOS |
| Rating | |
| Author | diedbeforesquire |
| Genre | Visual Novel |
| Made with | Ren'Py |
| Tags | Casual, Dating Sim, Fantasy, Magic, Otome, Ren'Py, Romance, Singleplayer, Story Rich |
| Average session | A few hours |
| Inputs | Keyboard, Mouse |
Download
Click download now to get access to the following files:
one-to-three-sovereignty-win.zip
77 MB
one-to-three-sovereignty-mac.zip
60 MB